Stocks, also known as equities, are among the best tools to make money around the world. Most of the richest people in the world have made their wealth from stocks of the countries that they have created. For example, Jeff Bezos makes most of his money from the stake he holds in Amazon. In Kenya, the Nairobi Securities Exchange (NSE) is the only bourse where companies list their shares. In this article, we will look at how to make money in stocks in Kenya.
What is a Stock?
Let's explain what a stock is using an example. Assume that you are the founder of a small company called Asana. As your company grows, you will need money to run it. One of the cheapest ways is to sell some or all shares of the firm to outside investors.
A simple way of doing this is through a stock exchange, which is a centralised place where you can list your company. After the people invest the funds, they will make money through dividends and share price appreciation. They can also sell their shares in the secondary market at a profit.
In Kenya, few companies are going public through an Initial Public Offering (IPO) these days. Still, the NSE is among the biggest and most active bourses in Africa. That could be because of the weak returns of the firms listed in the exchange. For example, in the past five years, the Nairobi All Share Index (NASI) has returned just 28%. In comparison, the S&P 500 index has returned more than 170%.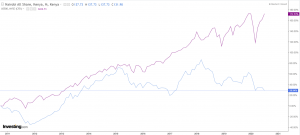 Biggest Stocks Listed in the Nairobi Securities Exchange
In total, there are more than 60 companies that are listed in the Nairobi Securities Exchange (NSE). The best-known company listed there is Safaricom, the telecommunication behemoth that is worth more than $10 billion. It is followed by Equity Bank, that is valued at more than KSH 128 billion, East African Breweries that is worth more than Ksh 126 billion. It is then followed by KCB, Co-operative Bank, Standard Chartered, and Absa Bank among others.
The smallest firms in the NSE are Olympia holdings, Uchumi Supermarkets, Express Kenya, Kenya Orchards, and Eveready East Africa. These firms, which used to be very valuable in the past few years, have seen their fortunes decline in the past few years.
Performance of Kenyan Stocks in the NSE
In general, stocks in the Nairobi Stocks Exchange (NSE) have had a rough time in the past few years. The uncertain political environment, weak shilling, and a deteriorating economy has seen many foreigners leave the Kenyan market.
In the past one year, Bamburi Cement has been the worst-performing stock in Kenya. It has dropped by more than 77% because of the deteriorating of the Kenyan economy. Nation Media Group, the biggest media house in the country, has dropped by 73% while Kenya Power, Crown Berger, British American Tobacco, and Diamond Trust Bank (DTB) have been the other weak performers.
On the other hand, the best-performing stocks in the NSE are WPP-Scanad, Car and General, National Bank, and Carbacid.
How to Make Money in Stocks in Kenya
There are two main ways of making money in stocks in Kenya. First, you can focus on companies listed in the Nairobi Stocks Exchange. Second, you can look across the border and invest in foreign stocks. Let us look at each side.
How to Invest in Companies Listed in the NSE in Kenya
There are two main steps that you need to follow. First, you need to do your research about the stocks listed in the bourse. The goal is to find the best firms to invest in because not all firms in the exchange are worth your time. We recommend finding companies with growing revenue, growing profits, and most importantly, companies with little debt.
Also, we recommend investing in companies that return funds to investors through dividends. In this case, among the best firms to consider are Safaricom, Equity Bank, Co-operative bank, and KCB.
Second, open a CDC account and buy the shares. A CDC account is an account that enables you to buy and sell shares. You can open this account at one of the leading brokerage firms. Among the best-known brokerage firms in Kenya are Equity Bank, Genghis Capital, and Kestrell. After you open the account, you can buy shares in the company you have researched on.
How to Make Money in Stocks in Kenya – Foreign Companies
With Kenyan companies performing poorly, many people prefer to invest in foreign companies. Unfortunately, this process is usually not easy for most people. But it is possible.
The best way to invest in companies like Facebook, Microsoft, Google, and Netflix is using a company called Interactive Brokers. This is a large company that is valued at more than $20 billion in the Nasdaq.
Unlike other popular America brokers like Schwab and Fidelity, Interactive Brokers allows people from most countries to invest in American and European stocks, options, and ETFs among others.
To invest in these companies, you just need to go to their website, create and verify the account, deposit money, and invest in companies. When you want to sell the shares, you can do so easily using the mobile apps or the web platform.
There are other options to make money in stocks in Kenya. You can use the popular foreign brokerages that offer Contracts for Differences (CFDs) of foreign stocks. Among the most popular brokers to use are FxPro, easyMarkets, ATFX, and Capital.com among others.
Final thoughts
In this report, we have guided you on the different ways in which you can invest in Kenyan firms like Safaricom and Equity Bank and also how to access foreign bourses like NYSE and Nasdaq. The foundation for any investing is to do a lot of research about the companies that you are investing in. Also, you need to be patient since stocks tend to move up and down regularly.