Nigeria is the largest economy in Africa with a high number of skilled workforce. It is an ideal business destination in West Africa. If you want to venture into business legally, the first crucial step is to register a company in Nigeria. The Corporate Affairs Commission (CAC) established by the Companies and Allied Matters Act is responsible for regulating and supervising company registration in Nigeria. The company registration process is similar for both local and foreign investors with few exemptions.
Quick Facts
A company in Nigeria must have a minimum of 2 members and a maximum of 50 members
Founding members must not be under the age of 18 years old (unless at least 2 other members are above the age of 18)
The minimum share capital for a company in Nigeria is N10, 000
Types of Companies in Nigeria
There are four types of companies in Nigeria. These are:
Private Limited Company (LTD)
Public Limited Company (PLC)
Companies limited by guarantee
Unlimited Company
What is the Difference Between Company Name and Business Name in Nigeria?
A company name in Nigeria is a separate legal entity from its owners. A company needs to have a minimum of 2 members. To register company name in Nigeria, you need one or more persons, sole proprietorship or partnership. Carrying a business under a business name means no legal entity with liability has been created.
How to Register a Company in Nigeria Online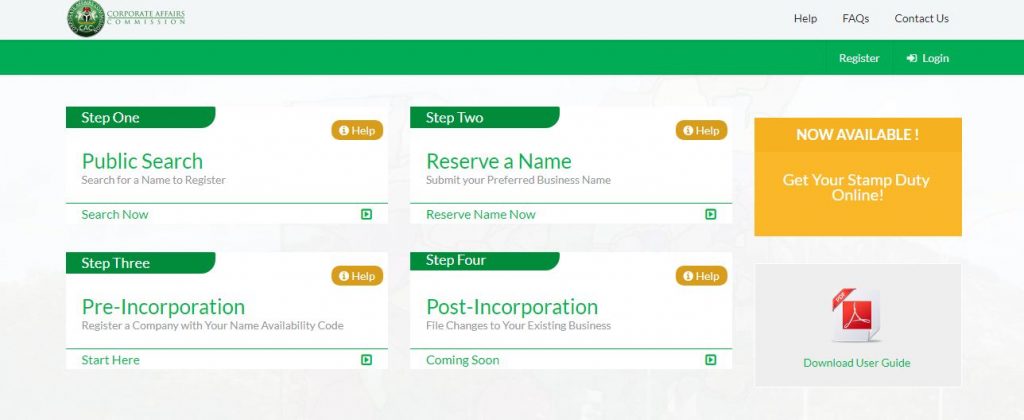 The Corporate Affairs Commission introduced online registration making the process easy. You do not have to make long queues at the CAC offices. Registering a company online requires that you create a new CAC account or log in to your account if you have an existing account. You can carry out the registration process entirely online except for section E in the registration form CAC 1.1, where you will require the attestation by a Commissioner of Oaths and the signature of a legal officer. Drafting the Memorandum and Articles of Association also needs a corporate lawyer.
How to Register a Company Name in Nigeria: Requirements for Registering a Company in Nigeria
The first step to starting any business in Nigeria is to register your company name with the authorities. This process of registering a company name in Nigeria begins with the choosing of an appropriate name for your company.
Name Search and Reservation
Upon choosing a name for your company after a business name check, you will need to submit it to the CAC website to check if it is available and not already in use. You can carry out a public name search on the CAC website or conduct a paid search on the CAC online portal. It is advisable to have at least two name options. The name will be rejected if it is already in use or against the stipulated Nigerian business laws. After a successful name search, the name is reserved for 60 days. Make sure you print out the 'Approval Note' after a successful name search and reservation. The next step involves filing registration forms and paying necessary registration fees.
Preparation of Memorandum and Articles of Association (MEMART)
Memorandum and Articles of Association state the business name, company objectives, office address, type of company (private or public limited company, etc.), and names of directors, initial subscribers, and shareholders. Initial members must be 18 years and above, be of sound mind, and must not be bankrupt. Directors will also need to provide a recognized identity document such as a national identity card, driver's license, or an international passport. It is advisable to engage a lawyer to prepare a Memorandum and Articles of Association.
Filling Necessary Registration Forms
After the preparation of all documents, you will be required to fill registration forms by the CAC. The following are forms to be filled.
Form CAC 7: this is the Particulars of Director form that all directors must fill.
Form CAC 1.1: this is the pre-registration form/ Application for registration
Form CAC 2: it is the Statement of Share Capital and Return of Allotment form that one director must fill.
Form CAC 3: this is the Notice of Situation/Change of Registered Address form that one director and the company secretary must fill.
Form CAC 4: Firms or individuals approved by the CAC will need to fill the Declaration of Compliance with the Requirements of the Company and Allied Matters Act form.
Secretary Appointment form:  at least two directors must fill a form appointing a Company Secretary.
Pay the Stamp Duty and Filing Fee
Upon filling all required registration forms, you will need to pay stamp duty at an arm of the Federal Inland Revenue Services. After payment, the applicant needs to take the Memorandum and Articles of Association and other forms to the Stamp Duty Commission for stamping. All stamped and filled documents will be submitted to the CAC. Stamp Duty can now be obtained online.
Preparation of Scanned Copies of Documents
After payment of the stamp duty and filing fee, prepare the scanned copies of documents filled in the previous steps, and upload them online for processing. (Approval Note, Form CAC 1.1, MEMART, a Recognized form of Identification for Directors, Subscribers and Secretary, Payment receipt, etc.). The scanned documents must be in Pdf format.
Submission of Original Documents
After filling all forms and following the stipulated registration process, you will need to submit the original documents to the CAC and wait for your Certificate of Incorporation. It is usually ready in less than 48 hours. A Certificate of Incorporation is useful for opening bank accounts, loan applications, and registering for taxes.
How Much Does it Cost to Register a Company in Nigeria?
There are different types of companies with different registration costs. However, the most popular company type in Nigeria is the Private Company Limited by shares for local and foreign investors.
| Registration Process | Charges in Naira |
| --- | --- |
| Name Reservation | 500 |
| Private company with a share capital of less than or equal to 1 million Naira | 10000 |
| Private Company with a share capital of more than 1 million Naira and up to 500 million Naira | 5000 for every 1 million Naira share capital or part of a million |
| Registration charges for a Private Company, Certified True Copy | 10000 for each 1 million Naira or part of a million,10000 respectively |
| Private Company Annual Returns | 3000 |
| Certified True Copy of other documents | 2000 per document |
Post-Registration Obligations
After following the basic company registration steps, there are other few things you need to do for the smooth running of your company.
Registration for Companies Income Tax and Value Added Tax. This is done with the Federal Inland Revenue Service (FIRS) to prevent fines. Obtaining TINs is free.
Every registered company must hold an Annual General Meeting each year.
Filing Annual Returns to be done 42 days after the AGM.
Special Control Unit against Money Laundering (SCUML) where applicable.
Conclusion
Company registration in Nigeria is essential to prevent fines by the authorities. Although company registration can be done online, original copies used in the process must be submitted to the CAC before issuance of the Certificate of Incorporation.