The jua kali sector is one of the employment sectors that employ thousands of people in Kenya. The word "jua kali" is a Swahili word that means hot sun. It is because people in the jua kali sector work for longs hours under the scorching sun. It comprises of informal traders and artisans who work at the roadside and market centers. They avail items that are in demand in the market.
According to Kenyan's Economic Survey of 2019, jua kali employs more than 700,000 Kenyans representing 83.6 percent of the overall jobs in Kenya.
Jua Kali Products and Services in Kenya
The jua kali sector produces a wide variety of products in the market, handmade and innovative. They make spring beds, beautiful furniture by carpenters, metallic boxes, shoes and motor vehicle repair by mechanics.
Small Scale Traders
Other people that play a critical role in the jua kali sector are the small scale traders like vendors and hawkers. They sell small and fast-moving goods in densely populated areas. You need to find out the fast-moving product in your neighbourhood that you can avail in the market. You do not need training and the startup capital is small.
Cobblers
The cobblers are also part of the jua kali artisans that play a key role in shoe repairs. Also, they produce locally made shoes. Their work is creative and they can make shoes using car tyres. Besides, they make belts and sandals. You can get training from experienced cobblers, or you can train yourself. Cobblers make up to Ksh 1,000 in a day.
Welding
Welders participate in the jua kali sector by producing metallic items like boxes, metallic doors, windows and repairs. Other products they make include cooking pots, sufurias and most cooking ware. Boarding schools in Kenya is a boost to welders since students buy metallic boxes and buckets from them. Schools also order beds from the jua kali welders. On a typical day, a welder can make up to Ksh 3,000.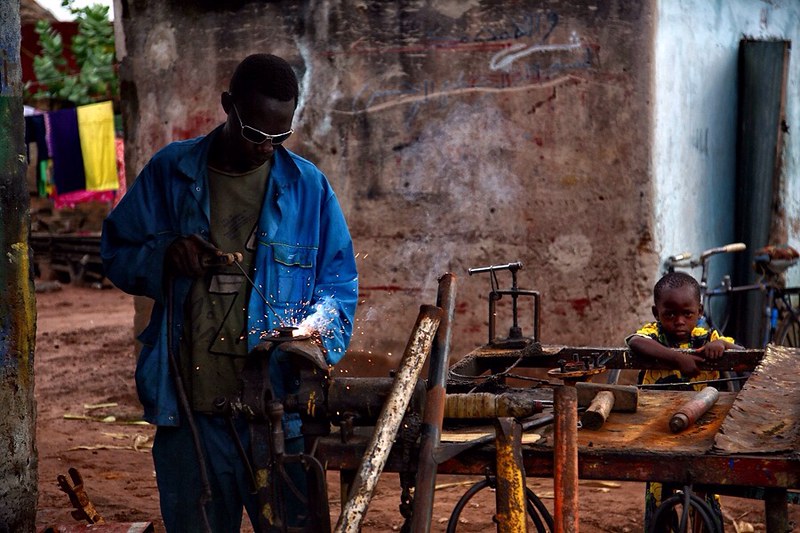 Tailors
Tailors are the other participants of the jua kali sector. Their work involves repairing torn clothes. Most of them also make quality and creative products like masai beads that local and foreign tourists like. Tailors and designers have kept most African cultures alive to date by making cultural clothes. You can get training from experienced tailors or a vocational training institution.
Car and Bicycle Mechanics
Car mechanics are the most common jua kali artisans. They repair vehicles and also make some car parts locally. Their products are preferred compared to imported since they are durable and of high quality. Mechanics are of different types, there are those that repair vehicles while others repair bicycles and motorcycles. They also manage to make most of their repair parts. This makes the price cheaper compared to importing, thereby promoting the local industries. Jua kali mechanics can make up to Ksh 3000 in a day. Vocational institutions train on mechanic skills.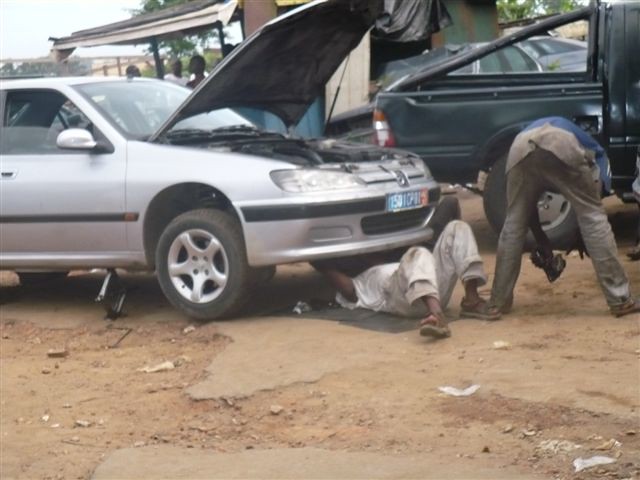 Plumbing
With many houses being constructed every day, plumbing is increasingly becoming on demand. The county governments have availed piped water to most of their residents. Homeowners need plumbing services to get connected to piped water. You can get plumbing training in most vocational training institutions. Most plumbers make Ksh 2000 in a day.
Painting
Painting is also becoming increasingly on-demand, just like plumbing with increased construction. You need to know how to mix paints and in what ratios. You can take a short course from most vocational training centers. For small painting jobs, painters get Ksh 2,000 in a day.
Challenges Facing the Jua Kali Sector in Kenya
The jua kali sector has been hard hit by critics who believe that it is for school dropouts. Recently, even graduates are taking up jua kali jobs, and most have started to appreciate it.
Just like the name suggests, the jua kali artisans work under harsh climatic conditions. Most do not have stores, thereby working the whole day under the hot sun.
Fire outbreak in most market centers is another big issue facing the jua kali sector. Markets like Gikomba face frequent fires that destroy properties. Most jua kali traders are left counting losses after their stock gets burnt and most cannot manage to restock their businesses again.
Competition from imported products is also a problem for jua kali business. Imported products are cheaper, making people abandon jua kali made products. Moreover, most jua kali traders do not have title deeds for the land they operate from. This makes it difficult for them to access affordable loans from the financial sector.
Conclusion
The jua kali sector contributes a lot to the Kenyan economy, and the government should address its problems. The government should also come up with incentives like subsidies in vocational training institutions and financial literacy training to promote the jua kali industry. Initiatives like Juakali Workforce, which facilitates livelihood opportunities by connecting clients with skilled workers from the jua kali sector, are commendable.