The mobile money business has been in the increase, especially after the Covid-19 outbreak. Governments have advised people to embrace cashless payments to reduce the chances of Covid-19 transmission. Both businesses and customers have embraced mobile money. As such, starting a mobile money business in Ghana is a profitable business you can reap from.
How is Mobile Money in Ghana?
Mobile money has proven to be secure, fast and affordable when it comes to making payments and sending money to loved ones. Mobile money was first introduced in 2009 in Ghana and has grown over the years. The Mobile Network Operators are permitted and regulated by the Central Bank to operate mobile money.
The mobile money has become popular since people do not want to make long queues in the bank to withdraw money from banks. It also provides employment opportunities to many people as registered merchants.
How Mobile Money Works in Ghana
There are many mobile money operators in Ghana. Among them are MTN, AirtelTigo and Vodafone. These businesses provide many money services like peer-to-peer money transfers, bill payment and salary disbursement.  You can also deposit or withdraw cash from your mobile account easily.
Most mobile money operators register merchants or agents to operate retail shops on their behalf. Those agents are paid on commission for the transactions they make.
Best Mobile Money Services in Ghana
With the many mobile money operators in Ghana, you need to know which ones work best and the pros and cons of each service. The following are some of the mobile money operators in Ghana. You can open a business and start offering mobile money services with these operators.
MTN Mobile Money
MTN Mobile money is the largest mobile money operator in Ghana. You can start an MTN merchant business and begin offering the following services.
Registering MTN SIM cards for customers
Helping customers to deposit money to their MTN mobile wallets
Assisting customers to withdraw cash from MTN wallets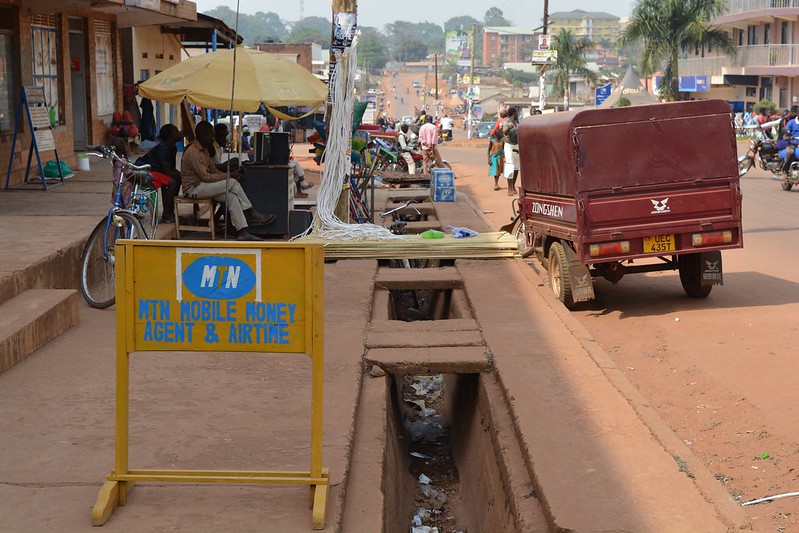 To become an MTN mobile money agent, you need to do the following.
Have a registered limited company
Fill and submit an agent recruitment form
Fill and submit the account handle form
Meet the code of ethics for merchants and agents
You need to be a registered limited company so that in case things don't go well; you can pay debts owed to customers. You also have to make all MTN official documentation and submit them to ensure that to run a legitimate business. In the agent's recruitment form, you need to fill in the following details; business name and number, GPS location and assigned bank details.
In the account handler form, you need to fill the agents' details. This includes name, date of birth, nationality, occupation and location. The structure of the building for a mobile money business s also considered.  You cannot qualify to operate an MTN money business in a temporary structure.
MTN merchants and agents are paid a commission for every transaction. Their commissions are as follows:
Any withdrawal that is between 1 GHC and 50 GHC, charges are 0.50 GHC and withdrawals exceeding 50 GHC attracts 1% commission of the withdrawal amount.
Vodafone Cash
Vodafone is the second-largest mobile money operator in Ghana. Vodafone Mobile money was launched in Ghana in 2015. So far, it has over 2 million registered users, and it is operating even in rural areas. Mobile users can use the service to pay for school fees and other utilities.
To become a Vodafone Cash merchant, you need to fill in and submit a merchant application form. You will need to fill your business profile details like its name, address, VAT number and the service you will be offering. You also need to add your bank details like bank account number, bank name and account name.
Make sure to attach copies of certificate of incorporation, business registration certificate, VAT certificate, business regulation and copies of operator IDs.
AirtelTigo Money
AirtelTigo Money was launched in 2017 and has gained a lot of liking from customers. The operator so far has over 400 retail outlets and more than 2000 network locations. The operator provides a wide range of services.
How to Run a Mobile Money Business in Ghana
Once you make necessary documentation to the money operator, if you meet the minimum requirements, you will be allowed to start your merchant business.
Look for a good business location with high on foot traffic. Look for areas with a large influx of people like in towns and outside institutions like schools and churches. Also, make sure to advertise your business to get customers. Once your business gets recognized for offering excellent customer services, you will start getting an influx of customers.